friday, december 1st @ gypsy tea room - THE BOUNCING SOULS, LEFT ALONE, STREET DOGS, whole wheat bread
doors @7pm, $14 cover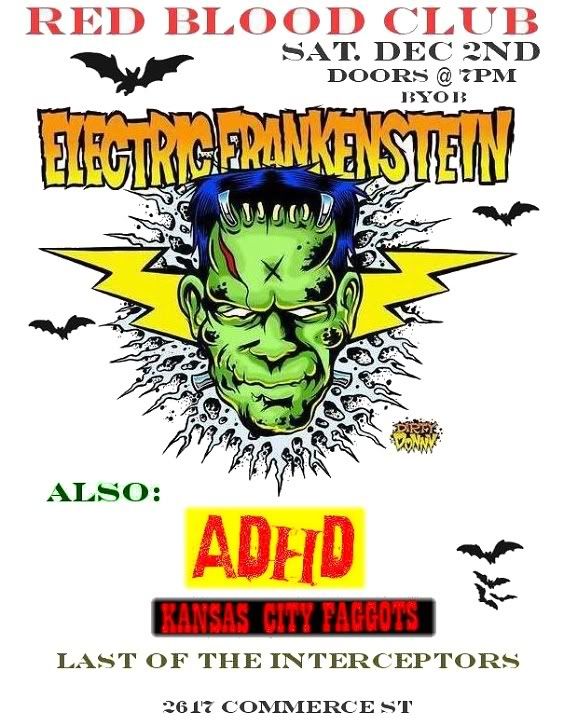 sun, december 3 @ the darkside lounge - 3 bad jacks, zombi ghost train
doors @ 8? $7 cover? those are the standard specs, anyway

also, soME big shows before the new year:

OI TO THE WORLD! CHRISTMAS TOUR!
thurs, december 21st @ fat daddy's sound shack - AGAINST ALL AUTHORITY, VOODOO GLOW SKULLS, time again
I DON'T KNOW WHEN OR HOW MUCH YET! GIVE ME A BREAK!

sat, december 23 @ gypsy tea room - THE REVEREND HORTON HEAT
doors @ 8pm, $15 cover


and here's 3 things to do in deep ellum for new years:

@ club clearview - ghoultown, shadow reichenstein, razorblade dolls
doors @8pm, $20 under 21, $15 for 21+

@ the darkside lounge - kansas city faggots, sawed off sick, free to kill again, dead city shakers
doors @ 8, $5 COVER

@ the red blood club - gang green, damage case, unit 21, rabies, bats & knives
doors @ 7? $10 cover? who knows?